Jotun Protective Coatings sells products to companies active in industries related to offshore, energy, infrastructure, hydrocarbon processing and storage tanks.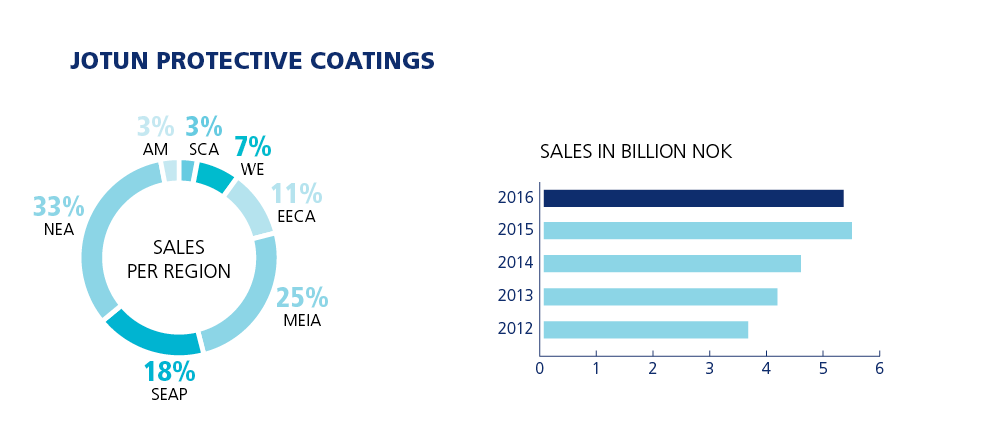 Highlights 2016
Adjusting to cyclical markets
Jotun's steady growth serving infrastructure, energy and hydrocarbon processing industry projects helped to offset weak demand for protective coatings in the offshore industry.

Low crude oil prices combined with overcapacity in the offshore market have slowed investments in new construction projects, impacting fabrication yards and suppliers – including Jotun. While the industry is not expected to stabilise before the end of 2017, Jotun has moved quickly to develop products and solutions to help owners save money by extending maintenance intervals for existing offshore facilities. For example, Jotun has launched a number of specialised two-pack, thick-film products for brush and roller that are easy to mix and apply, and have excellent flow properties to ensure long-lasting corrosion protection.

An emerging leader in steel protection

In the Infrastructure concept (stadiums, airports, convention centres, hospitals etc.) Jotun's successful product development helped support growth in 2016. For example, Steelmaster 1200 WF, a thin-film waterborne intumescent coating introduced in 2014, has established a strong market presence in the UK and the Middle East. While Jotun has a relatively modest global market share, the company has excellent references and a diverse product portfolio, especially for owners seeking 'green building' certification, which represents a promising opportunity for Jotun going forward.

Jotun is also focusing resources toward the Hydrocarbon Processing Industry (HPI), where it supplies a broad range of coatings solutions for new construction projects. Despite some challenging projects, the company has also found success with specialised epoxy passive fire protection products. In addition, the company has identified significant potential in the maintenance market for refineries, petrochemical plants and gas processing facilities. To serve these projects more effectively, Jotun has launched an initiative to expand its dealer and distributor networks to make protective coatings products more available, closer to where they are needed. Growth in the Energy concept (wind towers, thermal, hydropower etc.) remains stable.